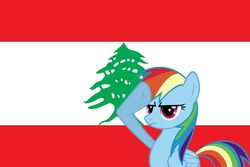 I might as well ask. For those of you who don't know, I'm Co-Founder of the deviantArt group #LebaneseBronies. It's an art group for bronies who live in Lebanon. It's more about trying to tie together a Lebanese brony community more than art. So if you're Lebanese and a brony, you might sign up just to mingle. There's a Facebook page too for people that prefer social networking sites for whatever reason.
So anyways, if any of you Lebanese bronies are reading this, feel free to sign up. Otherwise, if you know any Lebanese bronies, do us a favor and let them know about us.
External links
Ad blocker interference detected!
Wikia is a free-to-use site that makes money from advertising. We have a modified experience for viewers using ad blockers

Wikia is not accessible if you've made further modifications. Remove the custom ad blocker rule(s) and the page will load as expected.