Rainbow Dash Presents: Bubbles is the first episode of the video series Rainbow Dash Presents. It is an abridged and illustrated reading of the story by FiMFlamFilosopher, the writer and main voice actor of The Mentally Advanced Series. He reads it in-character in his "Rainbow Dash" voice, who comments on the story. The reading is accompanied by a series of still images credited to Petirep, some of which have a small amount of animation in them.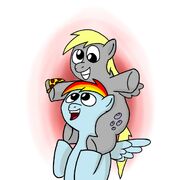 "Rainbow" is not a particularly attentive reader, mixing up words, skipping some sentences entirely and (wrongly) paraphrasing others. She also gets easily distracted and often goes off on a tangent about an episode in her own life. Her annotations increasingly draw parallels between Derpy's and Rainbow's childhoods, at one point identifying herself as Derpy (which is reflected in the corresponding image). Halfway through the reading, "Rainbow" puts herself into the story and starts making substantive changes to it that lead to a happier ending. The illustrations follow Rainbow's interpretation of the events, so for instance, Derpy's parents eventually change their looks to resemble Rainbow's parents more closely.
Ad blocker interference detected!
Wikia is a free-to-use site that makes money from advertising. We have a modified experience for viewers using ad blockers

Wikia is not accessible if you've made further modifications. Remove the custom ad blocker rule(s) and the page will load as expected.