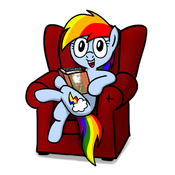 Rainbow Dash Presents is a series of videos written and created by FiMFlamFilosophy. They are presented as readings, but are actually liberal adaptations of popular pieces of fan fiction. In a typical episode, "Rainbow Dash" (using the character's altered personality from The Mentally Advanced Series by the same author) attempts to read the respective text to an audience, but gets distracted, altering and embellishing the story in a humorous manner. Each video is accompanied by still images by artist Petirep. Later episodes are more elaborate both in their story structure and their illustration, increasingly featuring animated sequences. Following the release of the sixth episode, the team announced several short films in development.[1] The ninth episode is currently the final planned video, and it was announced that the team will produce a finale series for the Mentally Advanced universe titled Equestria Primates.[2]
Episodes
Shorts
The shorts are not focused on either Rainbow Dash or fan fiction. However, they use similar art and are included in FiMFlamFilosophy's Rainbow Dash Presents playlist.
References
↑ FiMFlamFilosophy tumblr (2012-06-24).
↑ petirep (2013-09-29). RDP update and Equestria Primates. deviantArt. Retrieved on 2014 February 13.
External links