This Workshop page is a work in progress. Anyone can add to it.
Expandable topics: project history.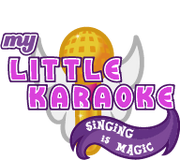 My Little Karaoke: Singing is Magic
is a competitive rhythm game, based on the
UltraStar Deluxe
karaoke engine. In this game similar to Singstar™, up to 6 players sing along pony songs and try to obtain the best scores by singing accurately.
The project started in June 2012, and its first song pack was publicly released on September 15th. This version has been deprecated in favor of a new distribution model later on.
A disc-based version containing songs from Season 1 to Season 3, as well as fan-made songs, was released in July 2013. A first Additionnal Content disc was published on December 20th, 2013; a second disc was then published on May 27th 2014. In total, the game now features more than 430 songs.
External links
Ad blocker interference detected!
Wikia is a free-to-use site that makes money from advertising. We have a modified experience for viewers using ad blockers

Wikia is not accessible if you've made further modifications. Remove the custom ad blocker rule(s) and the page will load as expected.