My Little Pony Fan Labor Wiki:Workshop/My Little Pony: Friendship is Magic ANIME Fan fiction series
Talk

0
665pages on
this wiki
This Workshop page is a work in progress. Anyone can add to it.
Expandable topics: Instead of lists, give general summaries for the seasons; consolidate them some.
| | |
| --- | --- |
| | This article, or parts of it, may require copy editing for over-reliance on lists above prose, tone. You can assist by editing it. |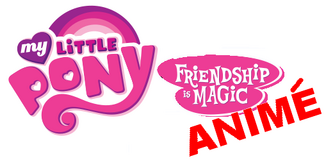 My Little Pony: Friendship is Magic ANIME is a fan fiction series streaming on deviantART. The series was created by deviantART user BigDream64 as a spin-off to the original Friendship is Magic Series.
The series first started out, according to the author, not entirally spinning off the series at all, but after a few more ideas were thought up, this series started prospering on and on.
This series started out with nine episodes per season, but after reaching season 6, the author decided to expand the episodes to 12 episodes per season.
The story basically spins off the original Friendship is Magic series with some unnoficial cross overs (EX: Sonic the Hegdehog, Gitaroo Man, The World Ends with You, and Kingdom Hearts).
It basically stars the Mane 6 along with some OC ponies in the stories as well. Along with a human Dragon Master named DM, (Diana Maria) Ventus, and more.
The series is still continuing production even after the season finales of the FIM series aired on the Hub.
Seasons and episodes
Season 1: First starting out.
Episode 1: An infant to Rescue
Based on inspirations from Yoshi's island. Twilight and her friends have to save a baby from Trixie feeding it to her dragon.
Episode 2: True Magic
Diana Maria makes her debute in this series.
Episode 3: An old friend for RainbowDash?
Thor makes his debute as RainbowDash's boyfriend. As well as DM's husband Crow.
Episode 4: A day for PinkiePie
Everypony forgets Pinkie's birthday, and when Twilight realizes. they need to make up for it to her.
Episode 5: Rainbow's Need for speed
Rainbow gets an offer to join a need for speed group, but is worried she won't see her friends again. Diana reveals that she's with child.
Episode 6: Fluttershy's Halloween Scare
Twilight and her friends first time visit the queen of halloween, Cynder the Dragon.
Episode 7: What is scary
Iris steals some odd power to gain friendship.
Episode 8: Order and Discord (Part 1)
Twilight has nightmares that her heart will be taken by a teen of dark power named Vanitus.
Episode 9: Order and Discord (Part 2)
Vanitus successfully takes over Twilight's heart. And DM has her child, naming him Ventus.
Season 2:
Episode 10: Much ado with RainbowDash
When an old rival changes Rainbow, it breaks hers and Thor's relationship with each other.
Episode 11: Flower Slumber
Unless Twilight and her friends find a cure for Flutter's Jirachi's Lily incident, she may stay asleep for all eternity.
Episode 12: Sweet Apples gone sour
Applejack falls in love with a male stallion worker and thinks pretending to be a rich pony would get his attention.
Episode 13: To share or not to share
SweetieBelle finds an ugly doll and refuses to shre it. Twilight then tells the Crusaders a couple of stories on sharing.
Episode 14: Beauty of Memories
Rarity loses her memory of her friends after a little clean-up accident.
Episode 15: A helping hoof
Little Ventus and the CMC want to help the ponies, but they tell them their too young and small.
Episode 16: Pinkie fibs
PinkiePie lies to the group to steal cupcakes. But ends up getting stolen by Team Rocket.
Episdoe 17: The Prodigal Sister
After AppleBloom breaks Applejack's favorite china plate, she runs away, and meets Bob the Tomato and Larry the Cucumber.
Episode 18: Is this goodbye, Spike?
Did Spike meet his parents? Should he say goodbye to Twilight and her friends?
Season 3:
Episode 19: The Guardian of Equestria (Part 1)
Ventus, all grown up wishes to know what he destiny is. He gets his answer when Trixie threatens to take over Canterlot.
Episode 20: The Guardian of Equestria (Part 2)
The group travels back in the past to avoid a bad future change.
Episode 21: Rivals in Poké Park!
Ash, Cilan, and Iris introduce Pokemon to the ponies.
Episode 22: Luck of the Togekiss
Rainbow disrespects a togekiss and gets nothing but bad luck.
Episode 23: Compassion for fashion
Rarity and SweetieBelle decide to enter a Pokemon fashion contest in Dragon.
Episode 24: The Dash!
RainbowDash longs to win a contest of being a super hero in Veggie Town.
Episode 25: SelfLESS of a problem
Scootaloo falls in love with a new colt named BlueFlare, and completly forgets her friends' needs for help.
Episode 26: Who's a TRUE fisherman?
The ponies and Cilan, enter a fishing contest in Dragon.
Episode 27: My, what four eyes you have
When Twilight gets glasses, everypony starts making fun of her.
Season 4:
Episode 28: Flightless blank flank
Thor thinks he's losing his ability to fly.
Episode 29: Harth Warming's Eve Tales (Part 1)
Rarity and PinkiePie turn an ice skating competition into an ugly one with each other fighting.
Episode 30: Harth Warming's Eve Tales (Part 2)
The Crusaders understand how Christmas and Harth Warming's Eve are the exact same thing.
Episode 31: Ride of the Torterras
Philip asks for Applejack's help, but thing don't go as planned.
Episode 32: Pony Part Dance!
PinkiePie finds a mind-controlling dancing rod which causes ponies and a mad Loudred to dance.
Episode 33: No ponies allowed
Fluttershy longs to join a Pokemon club but it refuses Equestrians. This was the first episode that introduced use of gunplay.
Episode 34: Movie time in Equestria
The group, along with Ash and his friends plan on making a new movie with Luka and his Zorua.
Episode 35: Poké Virus
Whenever somepony gets hugged, they turn into a Pokemon. Based off of inspirations from Fruits Basket.
Episode 36: Night of the SpiritTomb
Iris and the Crusaders accidently free a SpirtTomb. This is the first fan fic episode that does not include the Mane 6.
Season 5:
Episode 37: A rival's revenge! Pokémon battle in Ponyville!
Gary Oak, longing to win against the Dragon Master, plans on cheating.
Episode 38: Mama PinkiePie
After turning Trixie into an infant, PinkiePie has to stop her from making any trouble for the Mane 6, while DM tries to find ingridients for a cure. (First time inspirations from Dragon's Lair appear)
Episode 39: Struggle to the finish
Ventus gets encouragement to win the Struggle Tournament. Lea makes his debut, but doesn't appear in any future story.
Episode 40: Fossils Alive
Twilight and a member of the Junior Detectives explore a haunted museum. This is the last episode before the "15-25 pages policy"
Episode 41: All-Star dance off
ShutterStream makes her debut in her.
Episode 42: AppleBloom's bully trouble
A new filly comes to AppleBloom's school... and for some reason, gets pounded by the new filly.
Episode 43: Return of chaos (Part 1)
Discord and Vanitus return.
Episode 44: Return of chaos (Part 2)
Vanitus defeats Ven.
Episode 45: Return of chaos (Part 3)
Twilight and the others get help from an old "friend" named Penelope.
Season 6:
Episode 46: A beach day's bite
Twilight and the others help a kicked out of the Wonderbolts teammate, Spitfire, enter a beauty contest to win prize money.
Episode 47: My little Pokémon
Twilight and her friends recieve their new pokemon.
Episode 48: No tea for two
DiamondTiara longs to bring BlueFlareto her tea party. Dinky Doo makes her debute as a main character.
Episode 49: Two kingdoms need unity
Twilight and her friends perform a play to keep Veggie Town out of debt.
Episode 50: Fear inside
After Pinkie kisses Thor, Thor loses his braveness.
Episode 51: A day for baby
Iris has to babysit PumpkinCake and PoundCake.
Episode 52: Derpy the Side-Kicker
Derpy longs to be a good side-kick to LarryBoy. Derpy Hooves makes her first appearance in the fan fic. And this episode was released before her voice debute in "The Last Round Up"
Episode 53: The Search for Wavern's Light!
Twilight and the Pirates Who Don't do Anything, along with Sparklework. Sparklework was only used once and won't be used again due to the creator's deletion of his/her deviantART account.
Episode 54: The Pink Puff of Wonder!
Kirby makes his debute as a special guest in this episode.
Episode 55: Seeking the Reek
Scootaloo refuses to take a bath to make a world record.
Episode 56: Breaking and revival of friendship
Brighteyes makes her very first debute in this episode.
Episode 57: Be mine, Hearts and Hooves
Twilight falls in love with a human... and ends up turning herself into one with a potion she stole.
Season 7:
Episode 58: Derpy the brainiac
Derpy, wishing to not misbeahave wishes to be smarter. Lance from Brain Dead 13 makes his debute.
Episode 59: A true family reunion
Thor's parents don't believe that friendship and true love brought Rainbow and Thor together.
Episode 60: Fossil battle in Ponyville!
DM introduces Fossile battles to the ponies, before Team Rocket attempts at stealing the dino medals.
Episode 61: Heroes unite!
DiamondTiara and SilverSpoon make fun of Scootaloo being a super hero to The Dash.
Episode 62: A boast to vote
Twilight and all her friends, (Excluding Fluttershy) agure over who will be mayor for a day.
Episode 63: Keeping a booked mind.
This epiosde was complete after "Read it and Weep" was finished. Rainbow tries to hide her reading habits from Thor during their date. This epiosde was based off of inspiration from Don Bluth's Dragon's Lair.
Episode 64: Cutiemarks only
Diamond and SIlver plan a slumber party, and Dinky wants to be involved.
Episode 65: Lookie, a Tanuki!
AppleBloom drinks an odd concoction which slowly turns her into a tanuki.
Episode 66: Grand Galloping Chaos
Brighteyes accuses Richard that he insulted her.
Episode 67: The more the merrier
When more Pokemon want to enter the Apple Family, Applejack becomes enraged.
Episode 68: Out with the new in with the old
PinkiePie appears in the 1800's to solve a problem from Rocket Rustlers.
Episode 69: Tempting De-de-destruction
King Dedede plans on ruining Thor's birthday party by tempting the ponies with their weaknesses.
Season 8:
Episode 70: Pride goes before the fall
Applejack enters an Iron Horse competition, and it slowly changes her.
Episode 71: Ding Don Mahjong
AppleBloom doesn't want to play Mahjong with Granny Smith and her friends. This marks the first episode where The Mane 7's Pokemon speak human launguage.
Episode 72: Sweet elite, prepare to be beat!
This was planned to be a sequel-like episode to "Sweet and Elite" starring characters from The Legend of Zelda.
Episode 73: Flim Flam away!
Flim and Flam return, planning on stealing the Apple Family's farm again, but this time with Team Rocket.
Episode 74: Strike a Compose
Heartsong makes her debute in here.
Episode 75: Thank you for the reading
This epiosde was based off of inspiration from Space Ace. Don Bluth's name wa mentioned.
Episode 76: Which Pinkie's which
A fake PinkiePie imposts the real Pinkie.
Episode 77: Derpylicious
Brighteyes becomes enraged with Derpy and her klutzy behavoir.
Episode 78: Rodeo-ing for a good cause!
Applejack enters a rodeo competion. This episode was published after the Houston Rodeo ended.
Episode 79: Thor meets the Wonderbolts!
Thor becomes ecstatic by meeting the Wonderbolts, he forgets that Rainbow's at the hospital with a broken wing again.
Episode 80: Iron Rainboom!!
Pit from Kid Icarus makes his debut. This was the last episode that fouces on an outside human character.
Episode 81: Movie bully time
ShutterStream's childhood bully comes back and makes a beatdown on her.
Season 9:
Episode 82: Adoption Season
DM's sister, Akiza opens a Pokemon pet shop in Ponyville.
Episode 83: April Fool's Gold
Ventus introduces April Fool's day to PinkiePie and RainbowDash.
Episode 84: Woke up on the wrong side of the town
Neku and Shiki from The World Ends with You make their debut. This marks another episode which consists of gunplay.
Episode 85: The Story of Moses (Pony Version)
This was based off of inspirations from the biblical story of Moses.
Episode 86: Have an Eggarific Easter!
DM introduces Easter to Ponyville, which has the Crusaders and Brighteyes bring happiness to Ponyville while DiamondTiara and SilverSpoon bring mischeif and trouble.
Episode 87: Camera Love
ShutterStream falls in love with a stallion on her birthday but is afraid of being embarrased in front of the Mane 7.
Episode 88: A blasting wedding
RainbowDash and Thor plan on getting married. (This was based off of inspirations from "A Canterlot wedding", days before it was released.
Episode 89: Mystery at Black Skull Manor
MysteryGift makes her debut in here as a main character.
Episode 90: The Story of Jonah (Pony Version)
Fievel from An American Tail appears in this story, helping out Richard who plays the role of Jonah. This epiosde was completed before the second season finale aired on the hub.
Episode 91: All fans off
Rainbow becomes a wind master, but Thor, Ventus and Spike tell her that she's becoming a softy.
Episode 92: Odd jobs of Summer
Summer vacation's finally here, and the Crusaders want to earn money to go to the beach. VanillieCream makes her debut appearance.
Episode 93: Musket-Tears
Twilight signs Richard to be a musketeer.
Season 10:
Episode 94: Bound to the Ground
AppleBloom becomes grounded.
Episode 95: Enter the Dragon Master To-Be
Iris is forced to be locked up to avoid her Dragon Rage.
Episode 96: Lost in leadership
BlueFlare doesn't think he'll be able to lead the RainbowDash fan club for Scootaloo.
Episode 97: Mental Adventure
Derpy becomes heartbroken with Dr. Whooves' decision of leaving her.
Episode 98: Bet to win 'em all!
Twilight and Brighteyes make a bet to win a Pokemon egg.
Episode 99: The Mermaid's pearls!
DM turns the ponies into merponies to explore Blue Atlantis. Starfy makes his debut.
Episode 100: Wing around the Rosey
Episode 101: The Tea Ceremony
Episode 102: The Dragon Reaper's Game
Episode 103: The Story of Robin Hood (Pony Version)
Episode 104: Ramen Times
Episode 105: Sizing up AppleBloom
Season 11:
Episode 106: Lose some Win some
Episode 107: A Dino- Birthday Party!
Episode 108: Black Butterfly
Episode: 109: Boundary on love
Episode 110: Tolerating the Gitaroo Man!
Episode 111: Pokemon Summer Camp
Episode 112: On the air!
Episode 113: The Blame Game! Boys VS Girls!
Episode 114: The Day of Generosity
Episode 115: The Dragon War Part 1
Feedback
Despite a few minor typos and mistakes, the episodes are properly recived well. With each submission, each episode gets about 80- 120 or more views the following week.
Use of OC's
BigDream64 often asks permission to use a few other deviantART users' OC ponies that they cam up with theirselves.
Contact
BigDream64's deviantART account is remaining open and will respond to anything regarding the fan fictions or anything out of the ordinary.
Cross-overs
The author stated that he wanted to make a fan made series of Friendship is Magic similar to the beloved Kingdom Hearts series. The series often crosses over with popular franchises, such as Pokemon, The World Ends with You, Gitaroo Man, Kirby Right Back at Ya!, Sonic The Hedgehog, and such.
Episodes
The complete episodes can be found here, along with information of the fan fictions, and as of BigDream64's profile. http://bigdream64.deviantart.com/