Jennabun

Jennabun's ponysona
Known as
Voice actress
Singer

Account(s)

        

Jennabun is an American voice actress and singer in the brony community. She has starred in numerous My Little Pony fan works (commonly in the role of Sonata Dusk) and collaborations. Much of her voice work includes audio dubs of fan-made MLP comics and song covers.
Original character
Jennabun's OC (original character) was created on May 14, 2014. She is a female Pegasus pony with a white coat, dark brown mane and tail with light brown highlights, and a light pink bow. Her cutie mark is a pink heart with a blue music note and a microphone horizontally crossed over it. She is a fun and upbeat mare who loves to fly across the sky and spread her singing to the world. She enjoys making others laugh and always enjoys spreading a smile across their face. She's very timid and gentle when first met, but once you get to know her, she's the life of the party and the star of karaoke.
Voice work
Comic dubs
Other works
Selection of music
Gallery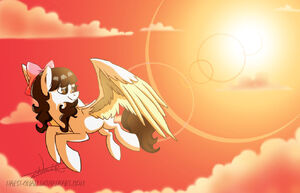 External links
Ad blocker interference detected!
Wikia is a free-to-use site that makes money from advertising. We have a modified experience for viewers using ad blockers

Wikia is not accessible if you've made further modifications. Remove the custom ad blocker rule(s) and the page will load as expected.