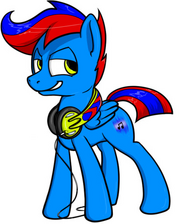 Location: Fairport, New York, USA
Age: 15
According to HydroAmbience he has been making music for about 5-6 years and in past year has shown his ability of what he can do. About a month ago he showed up on soundcloud and started making music once again, getting better as time went on.
He usally makes Dubstep tracks, but once in awhile he makes other genre's of music. For example, House, Trance, and Techno. But recently, 4chan's /mlp/ board found out about him, and has since caused him to remove his music from his Soundcloud. 
Links
Youtube - HydroAmbience's Channel
SoundCloud - HydroAmbience's Soundcloud
Ad blocker interference detected!
Wikia is a free-to-use site that makes money from advertising. We have a modified experience for viewers using ad blockers

Wikia is not accessible if you've made further modifications. Remove the custom ad blocker rule(s) and the page will load as expected.