Ad blocker interference detected!
Wikia is a free-to-use site that makes money from advertising. We have a modified experience for viewers using ad blockers

Wikia is not accessible if you've made further modifications. Remove the custom ad blocker rule(s) and the page will load as expected.
Carrot Top

Carrot Top, standing and pointing
Other names
Golden Harvest
Kind
Earth pony
Sex
Female
Fan voice(s)
Kira "Rina Chan" Buckland (Alt. 6)
Other links
Carrot Top is a yellow and orange earth pony background character. Her cutie mark is three carrots, leading fans to deduce that she is likely a carrot farmer. Her name is given as Golden Harvest in trading cards, while Carrot Top is listed as a nickname. In the first MLP episode, when Twilight goes to Sweet Apple Acres to see Applejack for the first time, a Carrot-esqe house is seen left of the barn. This has left speculation that she is related to, or close to the Apple family
In-show, she appears in most crowds and has had a few lines. She appeared in Boast Busters with green hair, as part of a gag.
She has been the focus of a number of a few notable fanworks, and is usually associated with
Derpy Hooves
.
Relationship with Derpy Hooves
Fans like to write Carrot Top as Derpy's best friend, and in some cases her roommate. She is usually the "straight man" foil to Derpy's crazy fan-given personality.
A common running gag with Derpy and Carrot Top is "I emptied your fridge", wherein Derpy eats everything in Carrot Top's fridge, despite the latter's attempts to protect it with locks and the like.
Notable appearances in fan works
Gallery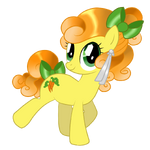 External links