EA

EA's OC Character
Other names
Shepherd of Fire
Evan Alberts
Active since
Youtube: November 27, 2011
Fandom: December 24. 2012
Known as
Musician

Account(s)

          

EA
is the psuedonym for an American rising-star brony musician. His first song was uploaded to YouTube on November 27, 2011, which was a mashup of two
deadmau5
songs. His first song affiliated with the fandom was uploaded on Christmas Eve of 2012, which was a remix of Rainbow Factory by 
Glaze
. His OC uses the female design because he doesn't like the blocky design of the stallions.
Overview
In the fandom, he primarily acts as a composer of rock/metal and their subgenres. All of EA's musical pieces are instrumental (not including remixes). He has remixed numerous songs, from the fandom or not, including Rainbow Factory by Glaze, One Trick Pony by Jackle App, Not Ready to Die by Avenged Sevenfold, Discord by The Living Tombstone, and many more. EA himself has yet to be remixed by anyone.
He burst onto the YouTube scene when a mashup of deadmau5's "Animal Rights" and Skrillex's "Rock and Roll" was uploaded, having 1,844 views as of July 2, 2014. His first song affiliated with the fandom, a remix of Rainbow Factory, was uploaded on December 24, 2011, with 107 views as of July 2, 2014.
EA currently stands with 70 subscribers on YouTube, with 13,803 total views on his videos as of July 2, 2014.
Musical pieces
Wrath of Pinkamena
Wrath of Pinkamena
Official video uploaded by EA
Creator(s)
EA
Date added
July 21, 2013
Duration
2:13
Type/genre
Metal
Wrath of Pinkamena was EA's first original song created since he joined the fandom. It is also his first song to use MIDI tracks and instruments instead of pitch-bent prerecorded clips of guitars, basses, etc. The reason for the huge gap between this song and his last work is because his computer got corrupted with viruses.
This song was inspired by a previously scrapped project EA had created in early 2011, titled Shrine of Zoroark.
That's an Academy Record!
That's an Academy Record!
The video
Creator(s)
EA
Date added
February 8, 2013
Duration
0:18
Type/genre
Filler video
Show connection
Wonderbolts Academy
That's an Academy Record!
is a video created by EA. It has 121 views as of January 12, 2013. It was originally meant to be a filler video for while he was busy making music. He says in the description "I'm sorry guys, I just REALLY had to do this after seeing the episode."
Starchaser- EP
Starchaser- EP
"STARCHASER" EP RELEASED!
Creator(s)
EA
Date added
December 1, 2013
Type/genre
Promotional video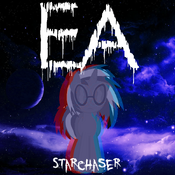 Starchaser- EP 
is an 
extended play
 released by EA on December 1, 2013. It includes a handful of his work, like Wrath of Pinkamena, 13 Lost Souls, and a few remixes of others' songs. It may have 10 tracks like a usual album would, but the total duration of it is just about 25 minutes, which is the duration for an EP. It can be downloaded for free from his Bandcamp page or from the link in the description of the promotional video.
| Track No. | Title | Length |
| --- | --- | --- |
| 1. | Take to the Skies | 2:32 |
| 2. | Avast Fluttershy's @$$ (EA Remix) | 2:14 |
| 3. | Rainbow Factory (EA Remix) | 3:14 |
| 4. | One Trick Pony (EA Remix) | 2:59 |
| 5. | At War | 3:12 |
| 6. | Purify | 1:40 |
| 7. | Heroes of Our Time | 2:39 |
| 8. | Wrath of Pinkamena | 2:13 |
| 9. | Purify (Strings Version) | 1:39 |
| 10. | 13 Lost Souls | 2:59 |
Upcoming Album
An upcoming album has been announced by EA. The album is planned to have around 15 to 20 original tracks all recorded by EA, with some bonus material included. No release date has been announced as of July 2, 2014.
External links
Ad blocker interference detected!
Wikia is a free-to-use site that makes money from advertising. We have a modified experience for viewers using ad blockers

Wikia is not accessible if you've made further modifications. Remove the custom ad blocker rule(s) and the page will load as expected.