Dynamite Grizzly is a fandom musician. Since her debut in 2011, she has been involved in numerous fan-projects, such as Pinkamena Party and futzi01's flash games.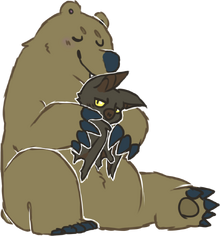 Style
Grizzly's style covers a wide variety of electronic styles ranging from French House and Jungle to Hip-Hop and Breakcore. On occassion she has also dipped into Rock and Orchestral. There is no real consistency to her music as she experiments constantly. However, she is a big fan of sampling, and songs without at least one sample are rare.
Other activities
Pinkamena Party
Dynamite Grizzly appeared on the first Pinkamena Party album, LET'S BUCK SHIT UP under the name "Bass Rabbit", a name she kept until around early-2013. Since then, she has been apart of every Pinkamena Party release, having done a total of sixteen songs across the nine albums.
futzi01
In mid-2012, flash-game programmer, futzi01, asked Grizzly for her permission to use "Welcome To The Night" in his game, Mysterious Muffin Mercenary Mare. The song was so well-recieved, futzi requested original music from her for his next game, the first game in the acclaimed Canterlot Siege series. Since then, she has composed music for all of his games, with three exceptions.
Super Smash Ponies
Dynamite Grizzly composed nine songs for the upcoming Super Smash Ponies, but ultimately left the project for personal reasons. Despite this, the songs will remain in the game.
The Horses Want Techno
THWT is a "hard techno" album based off her favorite episodes of season four. It is composed mainly of high energy techno in the 145 BPM range and up (with a few exceptions like Know-It-All or Nothing, which is Dub Techno). It also features guest tracks by InklingBear and Ayane Fukumi
The Long Way Home
TLWH is seasonal concept album, much like the last one, this time based off the first half of season five. Each song is based on a particular character from or location visited in season five. "Yak Funk" is based on the yaks, "LITTLE MOON DEVIL" is based on the Tantibus, "G" is based on the griffons, "Perfect Pairs (AKA KISSASS)" is based on the characters featured in "Slice of Life", "INDUSTRIAL" is based on Rainbow Dash and Tank, and "moondisco" is based on Moondancer.
Other
Other than pony music, she has gained interest in "We Bare Bears" and released an album about the show with InklingBear and CiiMassacre.
Selection of other songs
Ad blocker interference detected!
Wikia is a free-to-use site that makes money from advertising. We have a modified experience for viewers using ad blockers

Wikia is not accessible if you've made further modifications. Remove the custom ad blocker rule(s) and the page will load as expected.