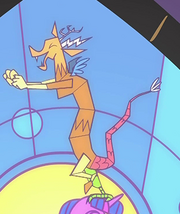 Discord Dance features a series of videos of Discord dancing to various songs. On September 17, 2011, Youtube User Trizero126 posted a video of Discord, dancing to "On the Dancefloor" by David Guetta. Since then, other Youtube users, including Trizero126 , started to post more videos and responses to the original video. The particular scene can be seen at 09:27 in the video at the top of the page.
There's also a Site for Discord Dance, which features the scene played in loop and allows you to input a youtube url of a music video for discord to dance to. You can also control the speed he dances.
External Links
Ad blocker interference detected!
Wikia is a free-to-use site that makes money from advertising. We have a modified experience for viewers using ad blockers

Wikia is not accessible if you've made further modifications. Remove the custom ad blocker rule(s) and the page will load as expected.