BronyTunes

The BronyTunes icon.
Founder
Jacob Pritchett
Date founded
July 2013
Type of site
Music Streaming Service
BronyTunes
 i
s a music-streaming service for aspiring musicians and music lovers who are fans of 
My Little Pony Friendship is Magic
. The service is developed, owned, and operated by Jacob Pritchett (the developer of
BronyNet
), and has over 7,000 songs as of January 2014.  It is available as both an HTML5 web app at
BronyTunes.com
, and as a
native iOS app from the App Store
 .
About
Jacob Pritchett, a 22-year-old brony from Idaho, began work on the service in summer of 2012 to provide an easy, free way for brony musicians to host and showcase their work.  The service powered by a special version of the NewsTime software, which is owned and built by Jacob Pritchett and is also, most notably, powers the BronyNet social networking site.
As of November 2, 2014, BronyTunes has 8751 songs, making it the largest brony music collection by a significant margin.  Its two closest competitors, EqBeats and Pony.FM, have 5576 songs and 2480 songs, respectively.
HTML5 Web App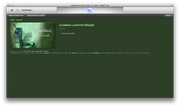 The BronyTunes HTML5 web app is what you'll use to access BronyTunes from your computer or tablet.  Accessing it is simple: just visit
BronyTunes.com
 !  It provides access to BronyTunes Showcase, which highlights newly-released tracks, and gives access to them in an interface familiar to people who have used the iTunes Store.  It also provides a simpler "Library" mode, available with the library button in the upper-right.
iOS App
The BronyTunes iOS app is what you'll use to listen to BronyTunes on the go!  The current version is comparatively limited when put next to the HTML5 web app (only providing the Library and playback features of the web version), but a rather large update to the iOS app is in the works, so stay tuned!
Android App
An Android version of BronyTunes is under active development! Stay tuned!
Windows Phone App
A Windows Phone 8 version of BronyTunes exists, but it has not yet been released onto the Windows Phone Store.
Ad blocker interference detected!
Wikia is a free-to-use site that makes money from advertising. We have a modified experience for viewers using ad blockers

Wikia is not accessible if you've made further modifications. Remove the custom ad blocker rule(s) and the page will load as expected.