This article is currently too short to qualify for inclusion on the main wiki namespace. If it is not expanded, it will be moved to a Workshop page, where it can be worked on without time pressure.
Expandable topics: More examples on portrayal in fan labor, especially non-shipping examples.
Big Macintosh

A Big Macintosh vector
Other names
Big McIntosh, Big Mac
Kind
Earth pony
Sex
Male
Fan voice(s)
Patrick Seymour (EPRBoE #2)
LumpySpacePony (Turnabout Storm)
Other links
Big Macintosh (sometimes spelled "Big McIntosh") or "Big Mac" is the official name for a supporting pony from My Little Pony Friendship is Magic. He is the elder brother of Applejack and Apple Bloom. He lives with Granny Smith and his aforementioned sisters at Sweet Apple Acres.  Big Mac rarely speaks, and when he does it's usually limited to either an "Eeyup" or "Nnope."
In fan works
Despite his taciturn nature, Big Mac is occasionally considered to be quite intelligent [R 1] (especially at "fancy mathematics"[R 2]). However, he can be shown as illiterate as well.[R 3]
In certain fan labor, especially that of the "clop" variety, he is depicted or stated as being very muscular[R 4] and "well-endowed".[citation needed]
Relationships
Big Mac is known for being paired up with Fluttershy, whether she is depicted as female or "Futashy". On occasion he is also shipped with Rarity or even Princess Celestia[R 5] on a premise of "opposites attract."  Big Mac and Caramel are also a very common same-sex pairing within the fanbase. [R 6][R 7]
Gallery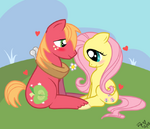 See also
References